To ensure that our rotary transfer machine is always state-of-the-art in all areas, Wolf Maschinenbau AG has been investing in research and development for years.
With the focus on process reliability, energy efficiency and modern design, the rotary transfer machine Wolf TSM 280 is continuously developed further.
Our customers benefit from our experience and expertise, which we gain through our research activities.
Innovative through research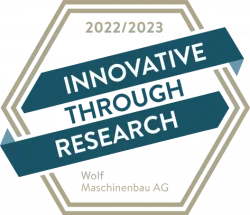 "By receiving government funding, Wolf Maschinenbau AG is one of the research-active companies. The commitment to a strong innovation location in Germany
was recognized by the foundation association
"Bildung. Science. Innovation"
on behalf of the Federal Ministry of Education and Research (BMBF) with the seal "Innovative through Research".
Central Innovation Program (ZIM)
Cooperation with scientific institutions is a matter of course for the development of Wolf Maschinenbau AG.
The Central Innovation Program (ZIM) is a nationwide funding program that is open to all technologies and industries. In cooperation with Heilbronn University, a ZIM project with the topic:
"Development of a modularization, control and optimization procedure, for round-cycle special purpose machines with novel modeling software (MoReRuMo)."
funded by the German Federal Ministry for Economic Affairs and Energy.
Funding period 01.05.2018 to 14.10.2020.
The company Wolf Maschinenbau AG carried out the modularization of the existing software and the energy efficiency studies as part of the project, which also resulted in interfaces for the new software for the development of the controller functions.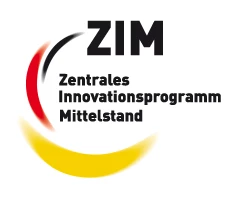 With the help of SolidWorks Simulation we are able to perform complex calculations as well as structural analyses.
By specifically examining assemblies and individual parts of the Wolf TSM 280, Wolf's development team is continuously improving the service life of our products. For this purpose, the finite element method (FEM) is used to predict the actual physical behavior of a product based on virtual tests of CAD models. The program enables linear, non-linear, static and dynamic analyses.